The most recognizable handgun in the world is the M1911.
John Moses Browning's tried and true design hasn't changed much over the years, but now there are some new features and more calibers, opening this pistol up to even more shooters.
But where do you start?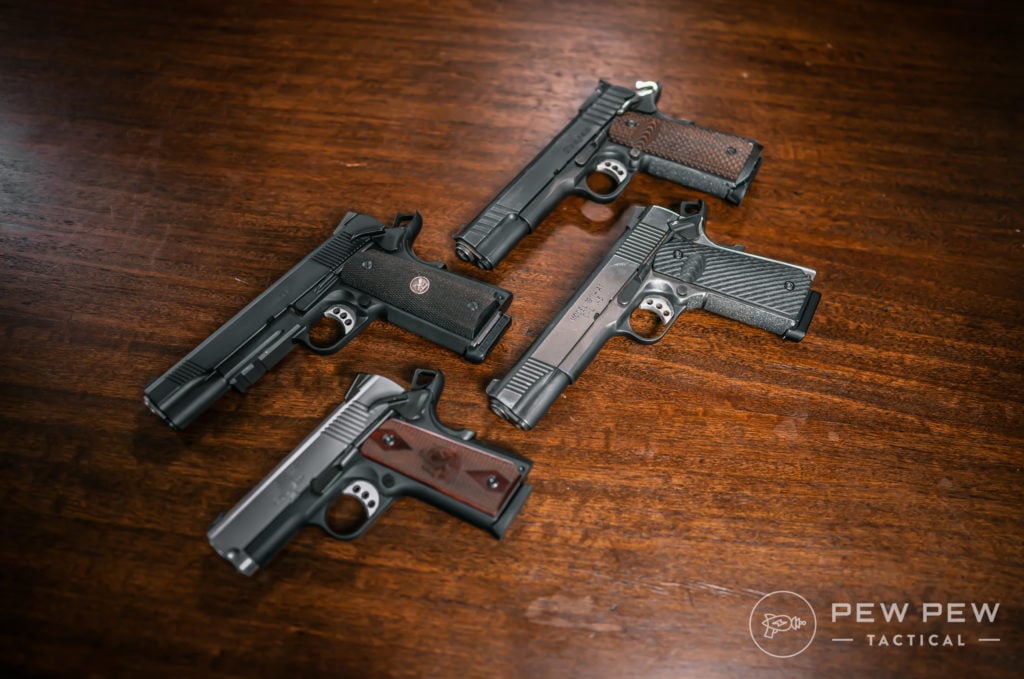 There are so many different types of 1911s on the market that almost no one knows where to start. The good news is that there's a perfect 1911 for you at your preferred budget.
Whether you're scraping the bottom of the barrel to put enough cash together so you can join the club, or you're looking to spend your tax refund on a high-end 1911, we've got you covered!
Summary of Our Top Picks
Table of Contents
Loading…
Quick Background
History of M1911
But first…a little history of the century-old design, and then I promise this will shine some light on how to choose the best 1911 for yourself.
Genius firearms inventor John Moses Browning sought to give the military a more potent handgun round.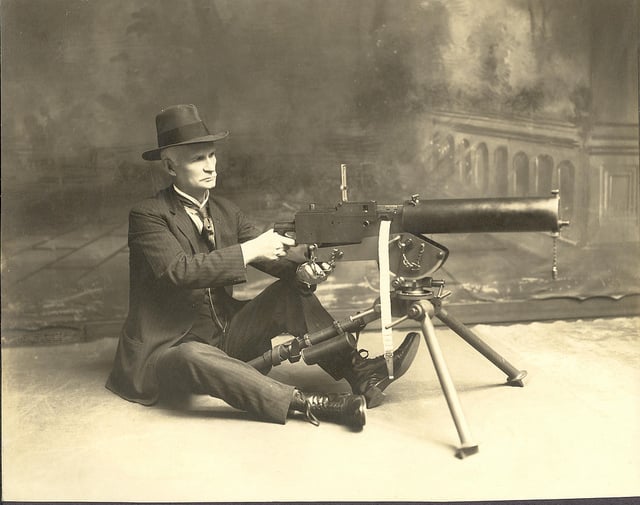 He was in direct competition with other gun makers like Smith & Wesson and Savage, but in March 1911, his auto-loading pistol was officially adopted by the US Military as their sidearm of choice.
The 1911 stood up to a 6,000-round torture test, being submerged in mud and acid, shooting deformed cartridges, and other tests.
Not only did Browning's design (to be produced by Colt) pass with flying colors, it was the only gun to pass all stages of this grueling test.
.45 ACP
The military needed a deadlier handgun round than the .38 Long Colt being used at the turn of the century and wanted it to utilize a .45 caliber bullet. The Army had a long history with .45 caliber cartridges, with the Single Action Army revolver (SAA) being used for many years.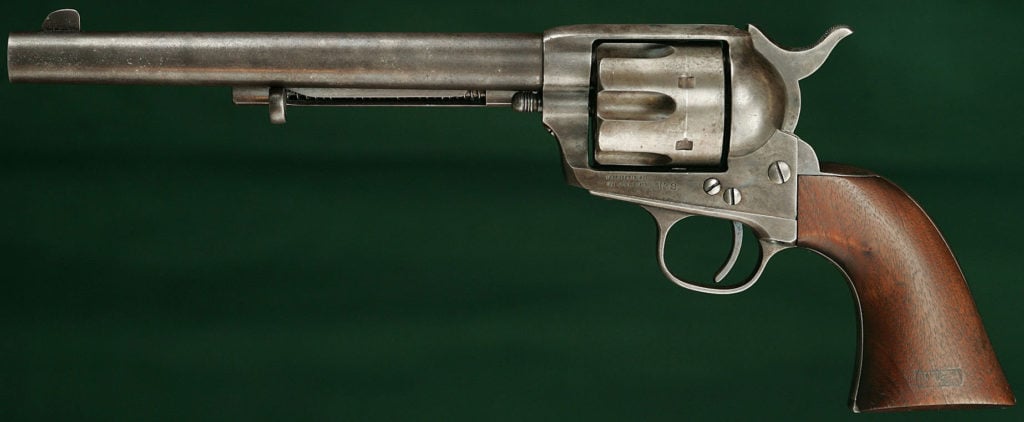 The ultimate replacement would be John Browning's 1911 chambered in .45 Automatic (AKA .45 ACP, .45 Auto, .45 Automatic Colt Pistol).  
This .45 Auto contained a 230-grain projectile capable of reaching speeds of about 850 feet per second and was much more capable as a self-defense round than the .38 Long Colt was.
Learn more about calibers in our Basic Bullet Guide.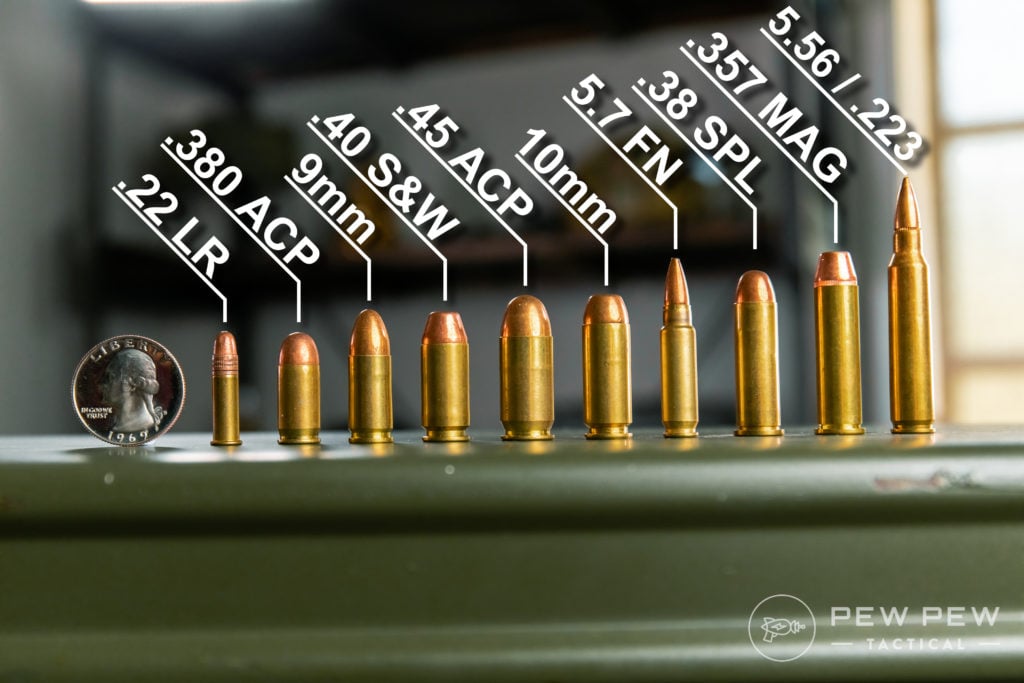 Other 1911 Manufacturers
Many purists decry other brands of 1911s (or calibers) as fakes and unworthy to bear the name.
One thing that many people don't realize, however, is that the demand for them was so high during the war that Colt contracted out to other companies to help keep production numbers up.
Some very well-known companies helped, to include Remington Rand, Ithaca, Springfield Armory, many foreign companies, and even the Singer sewing machine company.
In fact, the pistols from these other companies can command a very high price when sold. Some of the Singer pistols can be worth up to $30,000 to the right buyer because so few were made.
Modern Uses
The 1911 style is still in service in a few select military units and some police and is a widely accepted pistol for self-defense, regardless of the maker or size of the cartridge.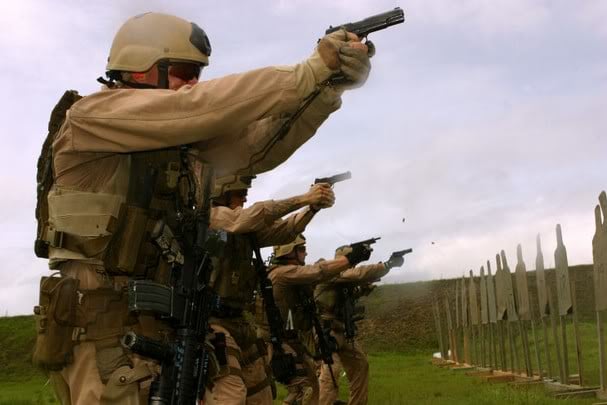 If you glance in the gun cabinet of many gun enthusiasts, you'll likely see at least one 1911 pistol. Many people own more than one because, as far as pistols go, they are accurate, ergonomic, and easy on the eyes.
Many major shooting sports also allow a class for shooting 1911-style pistols because, even though the original design is well over 100 years old, it's not going anywhere anytime soon.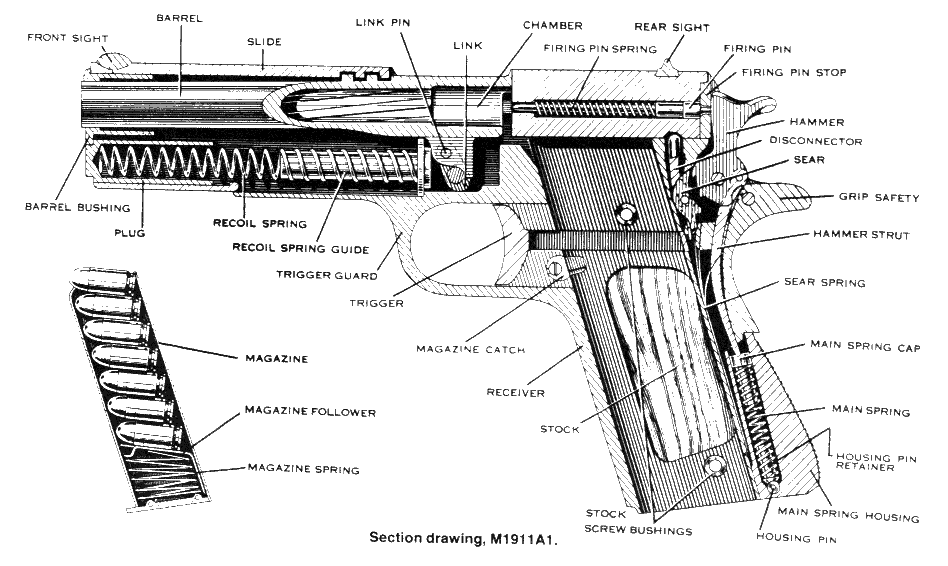 In fact, if you look at one of Colt's current 70-Series offerings, it is exceedingly close to the original M1911A1.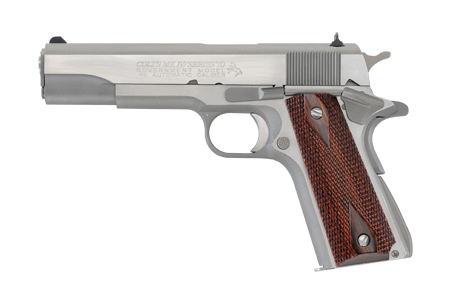 Best 1911 Pistols
First, let me start by saying that this is not an easy list to narrow down because there are so many excellent pistols being made by many different companies. 
Next, this list of firearms is chosen by me. You obviously have your own opinion, which we want to hear too.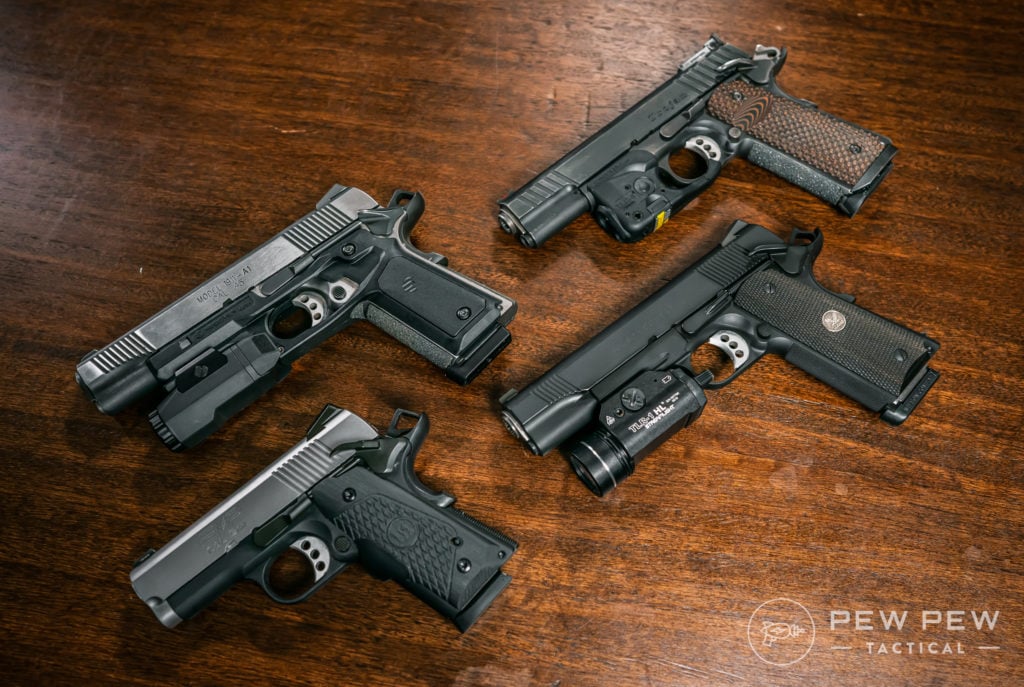 Finally, this list features a wide variety of guns currently on the market and not just those made by Colt.
We are also looking at 1911s chambered in other calibers, too, not just .45 ACP.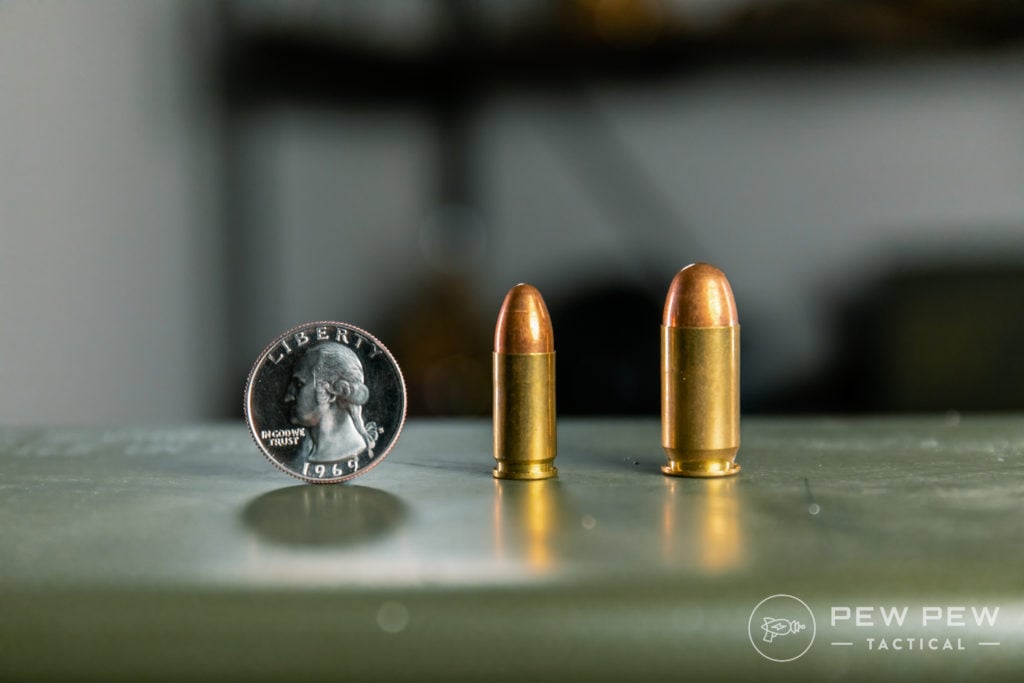 $500-$700 Range
The guns here won't look like slick hand-fitted showpieces but rather ones that will do the job. These have the ability to get better with a minimal amount of work. If you want a 1911 but can't afford to go out and buy an uber-expensive 1911, this is your price range.
1. Rock Island Armory 1911
I shot my first Rock Island Armory pistol during SHOT 2017. I've always known them but never had a chance to try any out.
Best Budget 1911
471
at Kygunco
Prices accurate at time of writing
Prices accurate at time of writing
And try out a lot I did. My favorite was their long slide 1911, but their standard 1911 was great too.
Sure, it needs some loving if you're a little spoiled by other makers, but it went bang every time, and when I did my part, it hit all the plates. They are designed by Armscor and manufactured in the Philippines.  
You can read our full review of the GI model here.
They have plenty of other models with great price points if you're looking for something more tactical.
This is the most popular section of guns. People save up for these over time in order to get a gun that doesn't need any work but can still be customized into a beauty.
2. Springfield Armory Mil-Spec
Springfield Armory makes excellent guns, even though many people believe they could do less stamping on them (looking at you, Grip Zone).
Mil-Spec
599
at Gunprime
Prices accurate at time of writing
Prices accurate at time of writing
The Mil-Spec doesn't have any extra words on it and is a gorgeous firearm with a 5-inch barrel that's available in stainless steel or with a parkerized finish.
The fit feels excellent, and the finish looks well done without any extra slag or burrs on the slide or frame that would cause hangups.
$700-$900 Range
3. Fusion Freedom Reaction
Fusion Firearms was founded by the former president of Dan Wesson and has been producing frames, barrels, and parts for 1911 builders for a while.
Best Bang For Your Buck
722
at Kygunco
Prices accurate at time of writing
Prices accurate at time of writing
They have recently expanded their line of production guns, and that includes the excellent Freedom Reaction.
These pistols come extremely well-fitted and feature aggressive front strap checkering, front cocking serrations target crowned muzzles, excellent triggers, and other features found on guns twice the price.
4. Springfield Garrison
A relatively new entry into Springfield's lineup, the Garrison has quickly become one of the best-value 1911s on the market today.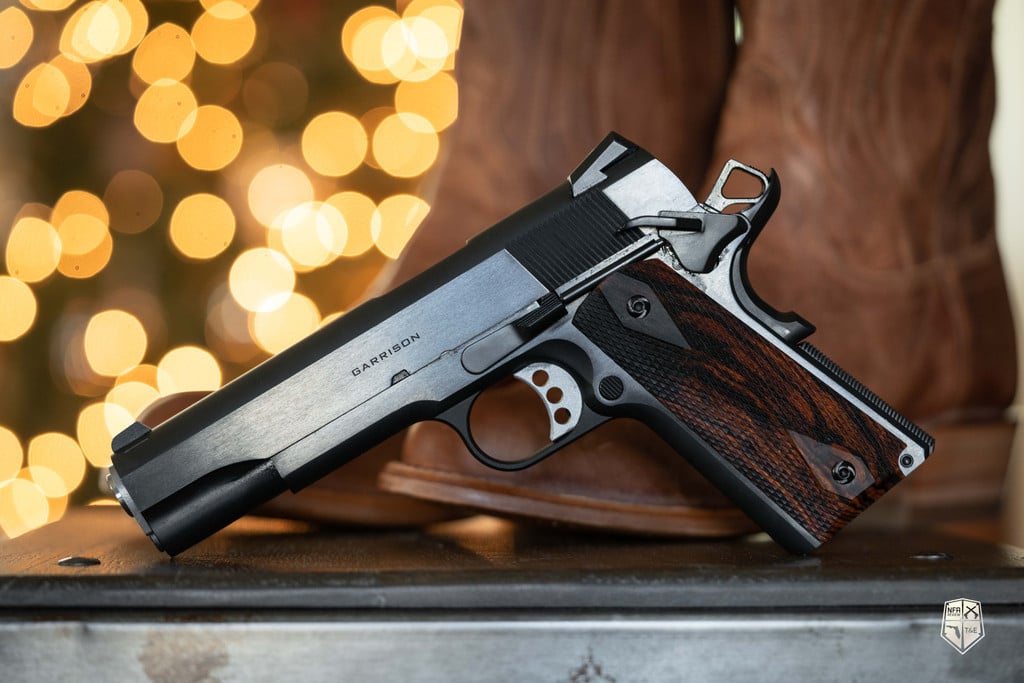 The Garrison features either a stainless or gorgeous hot salt-blued finish, a 5-inch match-grade barrel, low profile 3-dot sights, backstrap checkering, and an excellent trigger.
When you pick up a Garrison, you feel like you are picking up a $1500 1911, not a $750 one. They are available in 9mm and .45 ACP.
771
at GrabAGun
Prices accurate at time of writing
Prices accurate at time of writing
If you are looking for a beautiful pistol that won't break the bank with the shooting chops to match, this is the one.
$1,000-$1,500 Range
At this point, the guns are as close to flawless as you can get before spending a fortune on a handcrafted 1911.  
The guns run fantastically and need nothing to make them perform better. People still opt to do trigger work at this price, but it isn't because the stock trigger is bad.
5. Springfield Armory EMP 3″ in 9mm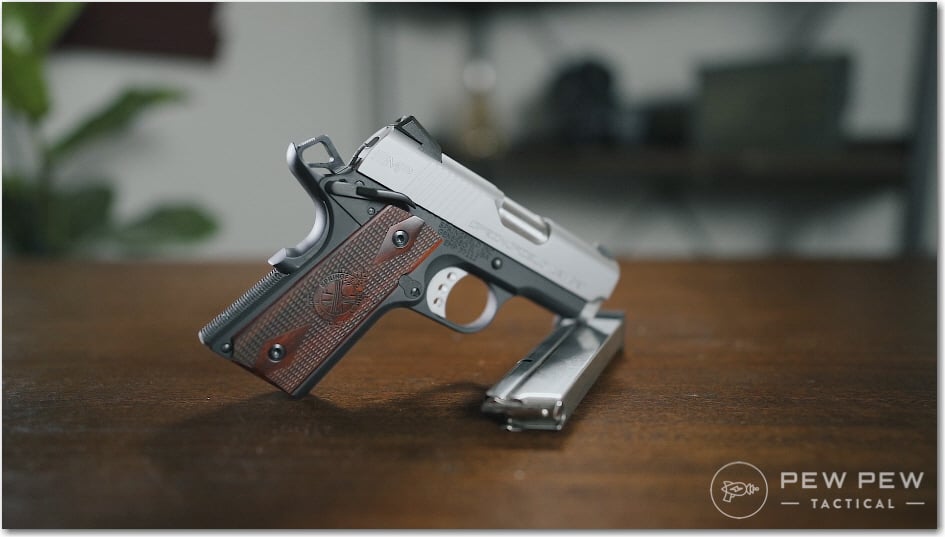 I own a Springfield EMP 9mm 1911 and have shot a lot through it.
779
at GrabAGun
Prices accurate at time of writing
Prices accurate at time of writing
As far as reliability goes, there is almost none better. Since I've had it in my possession, I've not had a single malfunction with it…which is more than I can say for many other guns.
And, accuracy out of the 3-inch officer-sized barrel groups well at distances out to 15 yards, even when rapidly fired.
Check out our full review video review below.
6. Kimber Warrior
A lot of times, when you see something like "WARRIOR" or "TACTICAL" in a firearm's name, you should get an uneasy feeling that the boys in marketing went a little too far.
But in this case, Kimber's name lives up to the expectation. This isn't just a 1911 that could serve as a duty gun; it did serve as Sean's duty weapon for years as a deputy sheriff.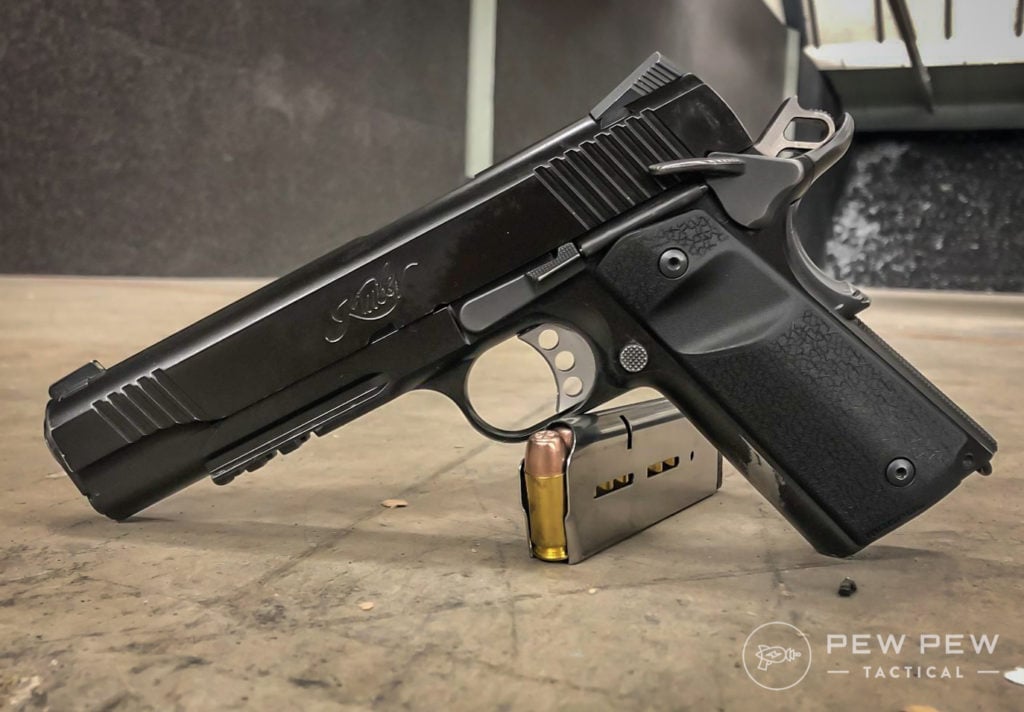 That said, like many 1911 pistols, the Kimber Warrior does need to be fed a diet of ammo and magazines it likes. But with good ammo and good magazines, this gun is ready to rock and roll when you need it.
Maybe best of all, the accuracy is outstanding, considering this isn't a match 1911.
Make sure to take a look at Sean's complete accounting of his many years of owning the Kimber Warrior!
1394
at Kygunco
Prices accurate at time of writing
Prices accurate at time of writing
7. Colt Delta Elite (10mm)
If you live in an area where four-legged creatures are a threat, enjoy hunting with a handgun, or just like the 10mm cartridge for self-defense, Colt's freshly revised Delta Elite may be what you're looking for.
Classic 10mm 1911
1599
at Gunprime
Prices accurate at time of writing
Prices accurate at time of writing
The venerable 10mm outperforms most other self-defense cartridges for semi-automatic weapons. While it is a bit more expensive to shoot, it is quite versatile if you reload your own ammo.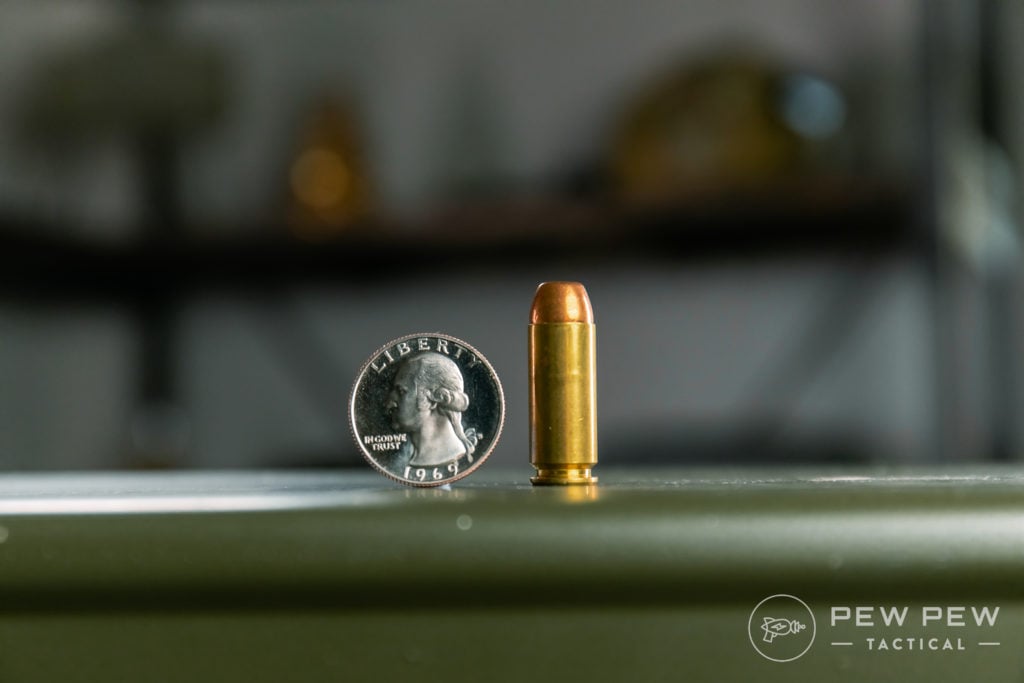 Please keep in mind that if the .45 ACP or .40 S&W recoil bothers you, you'll need to stay away from 10mm, because it's even snappier.
For $200 more, you can get a Delta Elite with a Picatinny rail that allows you to mount a light or laser below the 5-inch barrel.
Want more 1911s in 10mm? Check out our separate article.
8. Smith & Wesson SW1911SC E-Series
For those looking for an excellent mid-sized carry 1911, check out the 4.25-inch commander S&W 1911SC E-Series.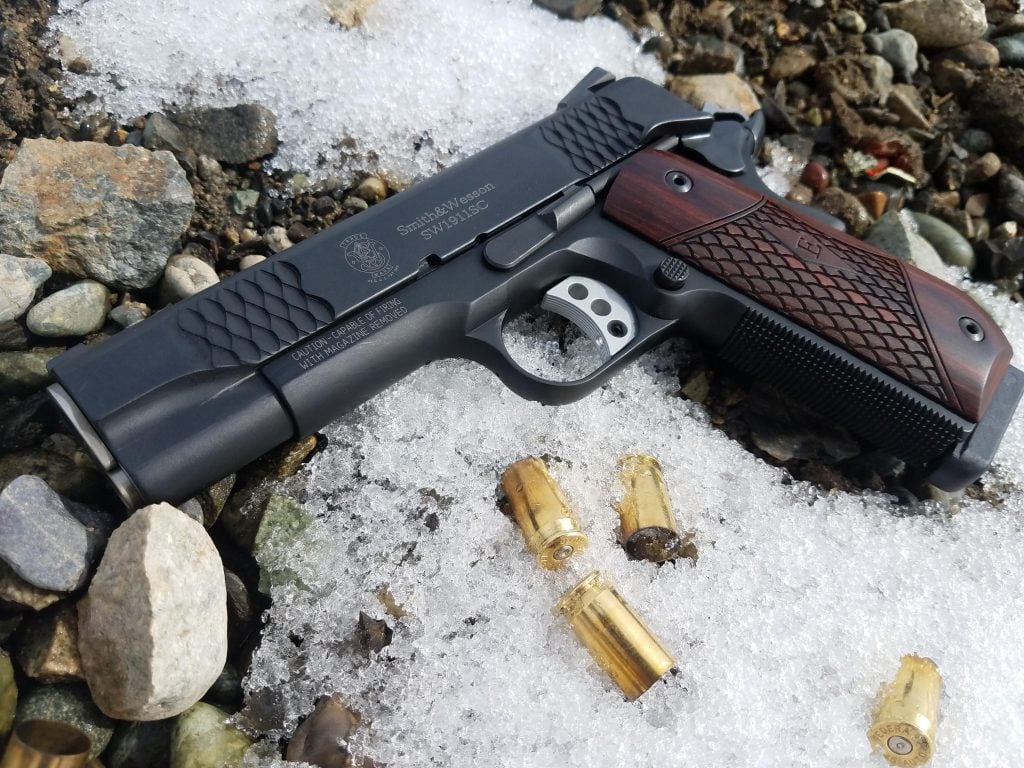 The E-Series 1911s depart from your standard steel or aluminum frame in favor of a lighter scandium alloy frame.
Other great features include tritium night sights, unique fish scale front and rear slide serrations, checkered front and backstraps, ambidextrous thumb safety, and a rounded butt for added concealability.
Best 1911 for Concealed Carry
1461
at Kygunco
Prices accurate at time of writing
Prices accurate at time of writing
These features, combined with the commander-length barrel, make this one of our top picks for those serious about using a 1911 as an everyday carry gun.
9. Dan Wesson Vigil
Even though the Vigil is the entry-level 1911 in the Dan Wesson lineup, it is still nicer than just about any other option in the same price range.
1299
at Guns.com
Prices accurate at time of writing
Prices accurate at time of writing
Dan Wesson is well-known in the 1911 community for making some of the best pistols out of the box without having to spend for a true custom gun.
A crisp trigger, tritium front sight, extended beaver tail, checkered front and backstraps, forged aluminum frame, and forged steel slide ensures that the Vigil has everything you need and nothing you don't.
10. Sig Sauer STX
If you need a great 1911 for something like duty carry, you can't go wrong with a Sig. They offer a few 1911 models, but the one to make this list is the STX.
1262
at Guns.com
Prices accurate at time of writing
Prices accurate at time of writing
A wide mag well, Nitron stainless steel slide, adjustable combat night sights, ambidextrous safety, and custom burled maple grips complete the package.
$1,500+
There are many 1911s that fall into this price range, with some costing several thousands of dollars. This is where custom makers begin to enter the market with absolutely gorgeous firearms with all the bells and whistles.
11. Wilson Combat CQB with Rail
If you have the coin and want the absolute best, go with the Wilson CQB Tactical LE.
Best High-End 1911
2199
at Guns.com
Prices accurate at time of writing
Prices accurate at time of writing
Wilson Combat is synonymous with 1911s and high-quality parts. Many people seeking to upgrade their guns, or just have quality magazines, turn to Wilson.
I've built a couple of 1911s and always fall back to Wilson parts. Every time I didn't, I ended up junking that part and bought Wilson.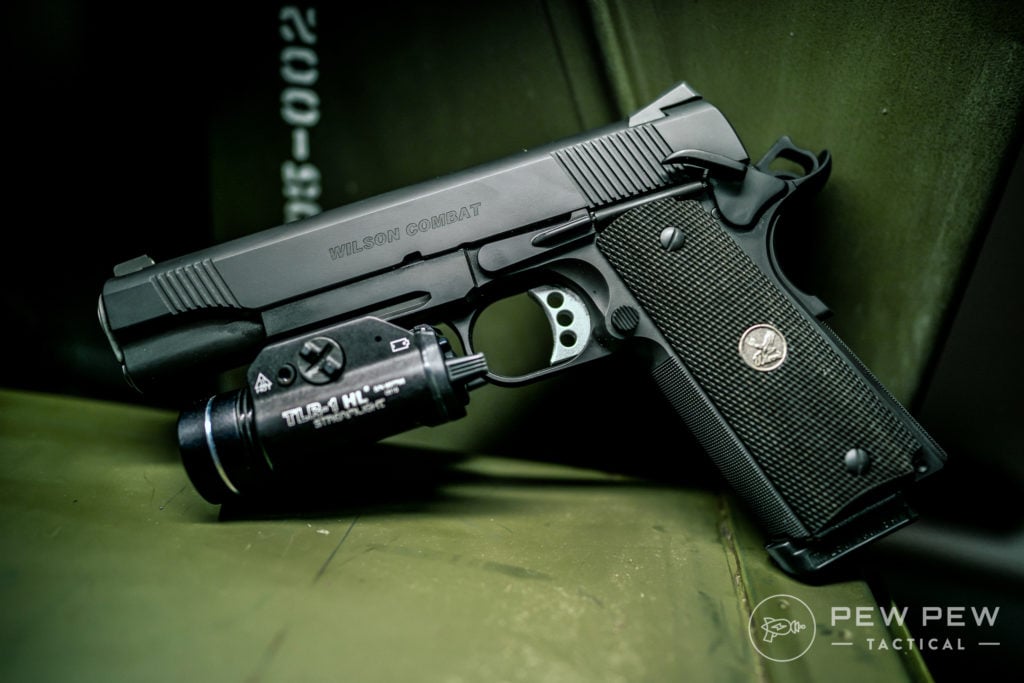 For me, the CQB has it all…the Wilson quality, rails, aggressive grips, and fiber optic sights.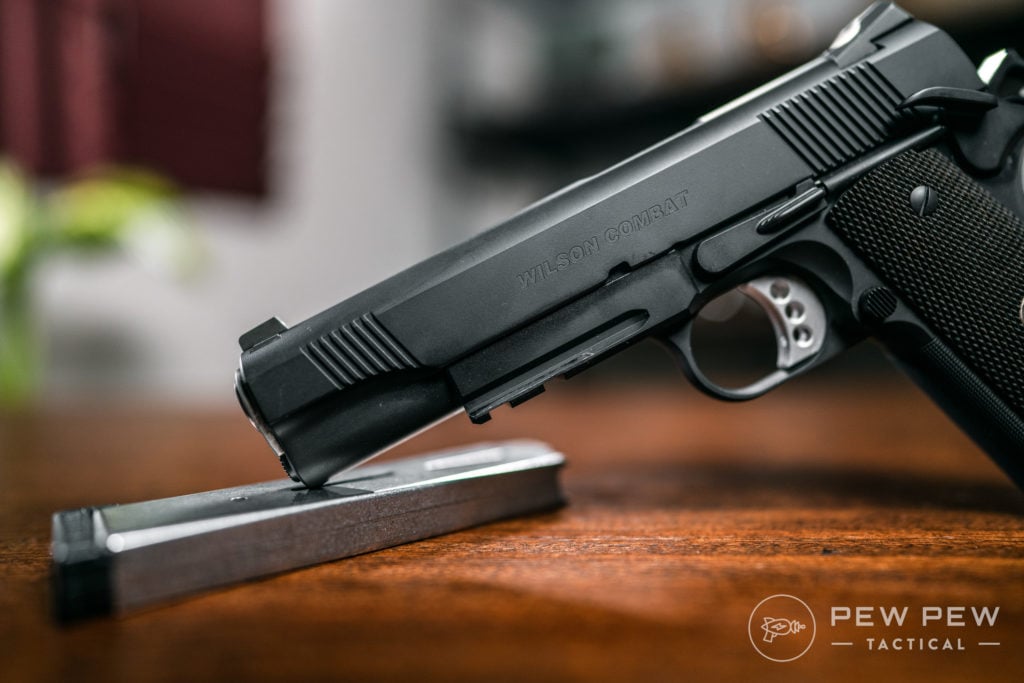 And now I finally have one! Full review coming soon…
12. Vickers Tactical Master Class 1911
Brought to you by Wilson Combat, Larry Vickers, and Springfield Armory — this is a badass gun. Period.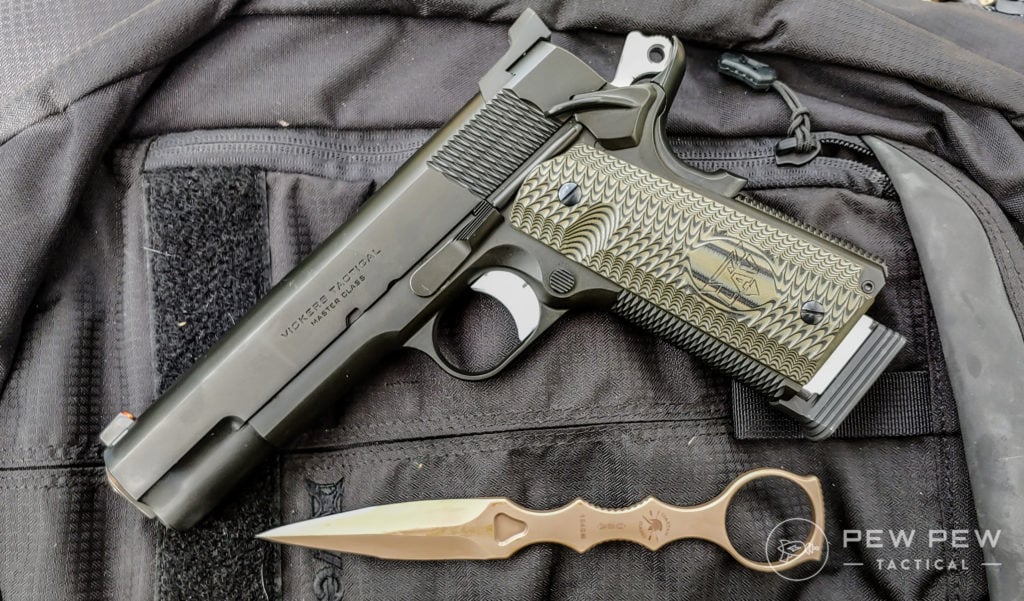 The Vickers Master Class is most certainly a gun designed with a mission. From the sights to the trigger and beyond, the gun is modernized and perfected for combat.
Where this gun differs from your plain old 1911 is in the combat-oriented features.
Wilson Combat has several upgrades in this gun that most people have to install after they buy a gun, but here it comes standard.
The trigger, the hammer, and more are upgraded over what you would normally get — we love that!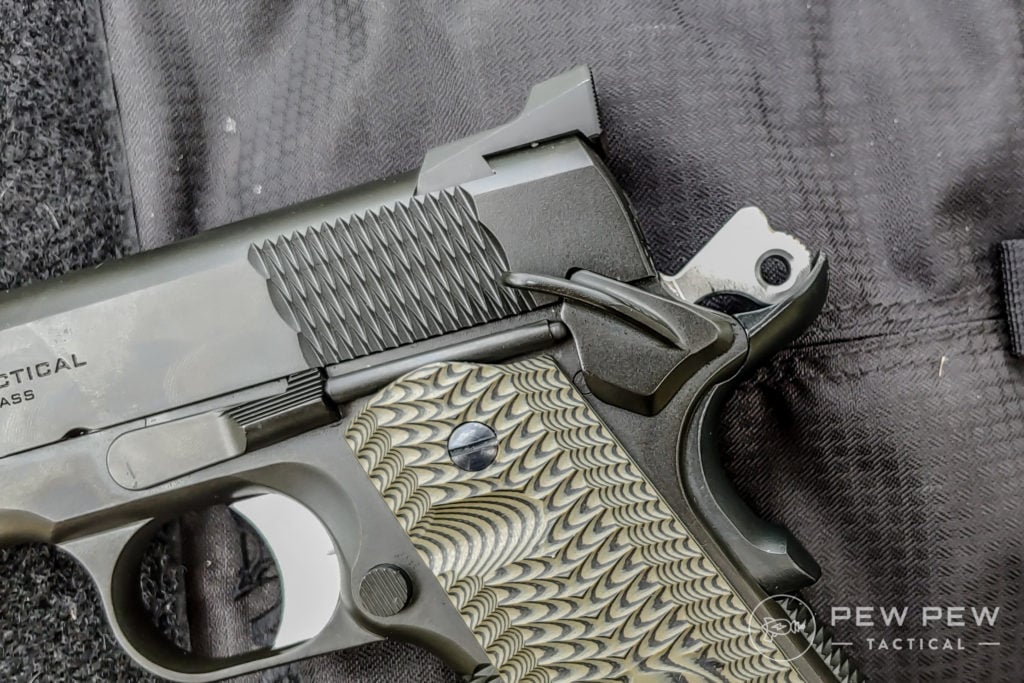 The sights are one of the best upgrades, with the rear sight being a Vickers Elite blacked-out rear sight, and the front is a high visibility day and night sight. They are quick to acquire and easy to get on target. 
There is a lot more to say about the Vickers Master Class, so check out our hands-on review of it.
Bottom line — if you're ready to spend this kind of cash, this needs to be on your shortlist.
1311
at Kygunco
Prices accurate at time of writing
Prices accurate at time of writing
13. Les Baer Premier II
For those looking for a true custom-grade 1911, the Les Baer Premier II might be the gun for you.
Les Baer has been a powerhouse in the 1911 world for decades and is well-known and well-respected as one of the finest pistol makers in the industry.
2249
at Gunprime
Prices accurate at time of writing
Prices accurate at time of writing
The Premier II is no exception. The barrel is hand fitted to the slide, and the slide is hand fitted to the frame. When you combine these premium parts with the crisp Les Baer speed trigger, you get a gun guaranteed from the factory to shoot 3-inch groups at 50 yards.
14. Staccato 2011
Yup, you read that right — 2011.
Although they aren't technically 1911s, 2011s are very close in both function and spirit. And as far as 2011s go, Staccato brings in high-capacity and optic-ready guns like no one's business.
I'm a decent shot, but shooting the entire gamut of Staccatos simply felt like cheating.
Some of my favorites include the Staccato C2 line, which brings 16 rounds in a compact concealable package.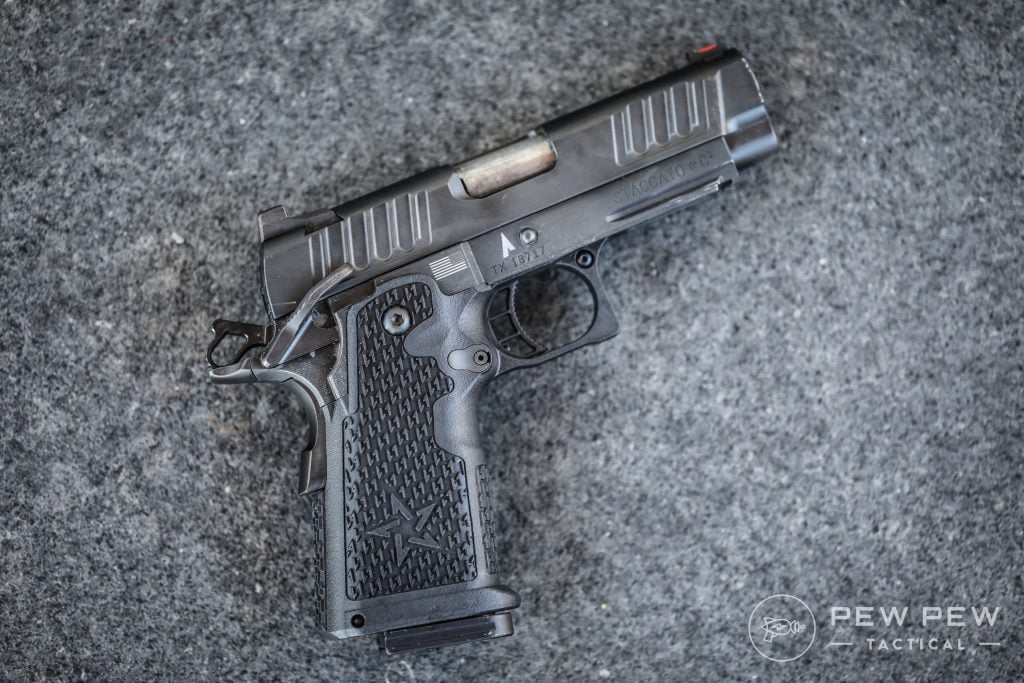 It's not much thicker than the single stack C version (8 rounds) while coming in at just around the same weight of 25 oz.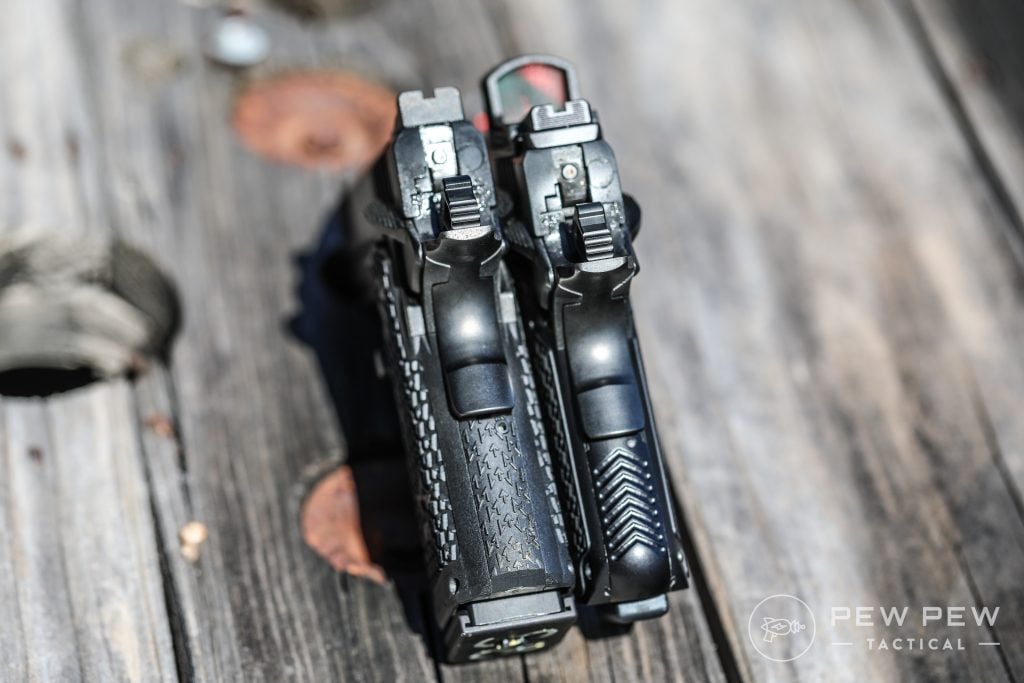 And so flat shooting it's scary — and super fun.
If you want to carry a 1911-style gun that's crossed over into the new century, check out the C2.
1999
at Staccato
Prices accurate at time of writing
Prices accurate at time of writing
They are also available in optic-ready configuration for those who want to run a mini red dot.
Best Concealed Carry 2011
2299
at Staccato
Prices accurate at time of writing
Prices accurate at time of writing
See our full review of both the C and C2 here and our video review below.
Next up are the gamer guns!
If you're serious about winning competitions, check out the Staccato XL, which excels in USPSA Limited (with their .40 S&W version) and 9mm-friendly comps like Steel Challenge and Tactical Games.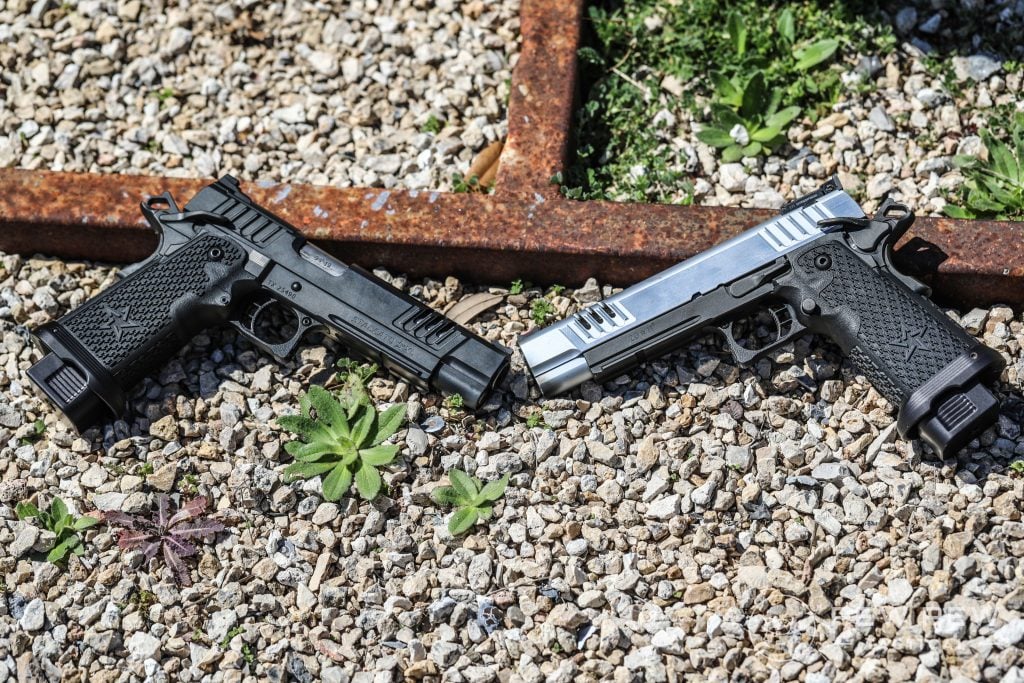 A longer slide brings a longer sight radius and more weight to keep it even flatter shooting even with factory Blazer Brass 124gr.
I'm not kidding…it's basically cheating.
So what's the rub? You gotta pay to play. Staccatos are already expensive, and the XL comes in over $1000 more than the Standard C2 or P.
3399
at Staccato
Prices accurate at time of writing
Prices accurate at time of writing
How about the top-of-the-line open guns?
Enter the Staccato XC, which comes compensated and optic-ready out of the box.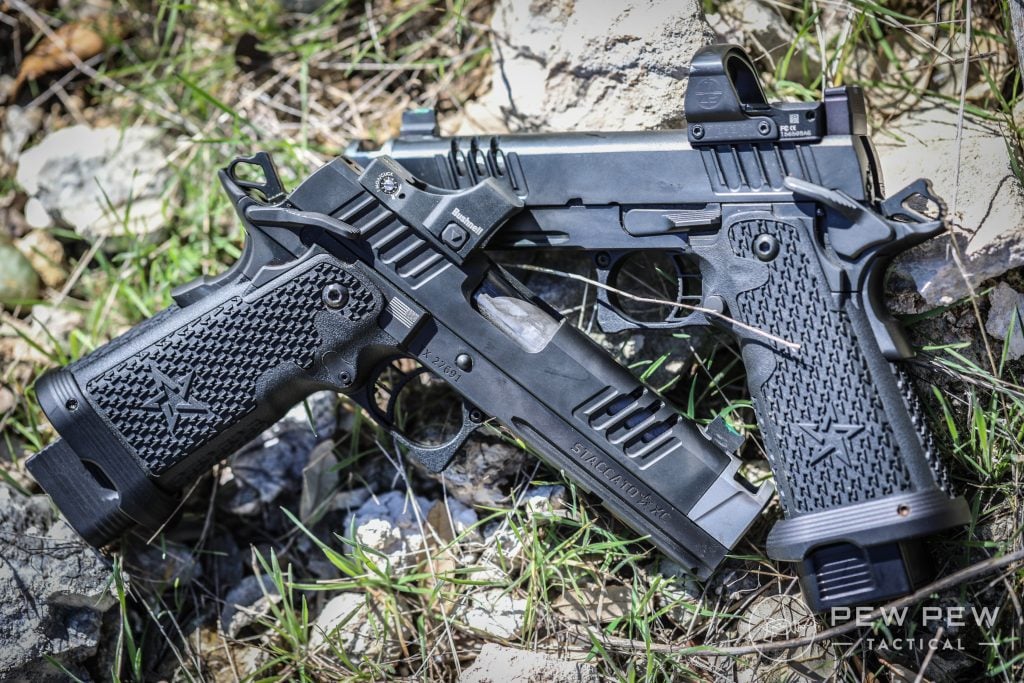 If your flavor of competition allows compensated guns, the Staccato gives you everything needed to hang with the big dogs. And even if you don't plan on competing, this is one bad-ass gun.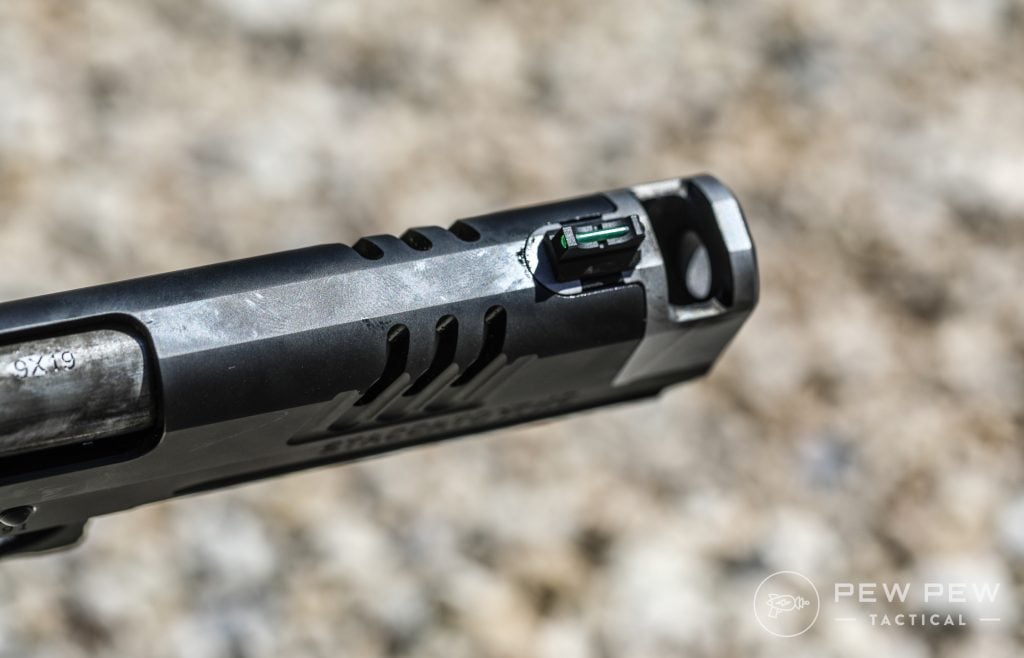 Check out the compensated gasses shooting up on top.
And a slow-mo of it being super flat shooting.
Again…I can't state how much it felt like cheating compared to shooting other guns. You simply press the 2-lb trigger, move the dot over the target, rinse and repeat.
Best Competition 2011
4299
at Staccato
Prices accurate at time of writing
Prices accurate at time of writing
We now have a hands-on review and video of the XL and XC in action with even better slow-mo footage of how little the gun recoils.
Staccato also just recently released their latest compact 2011…the CS.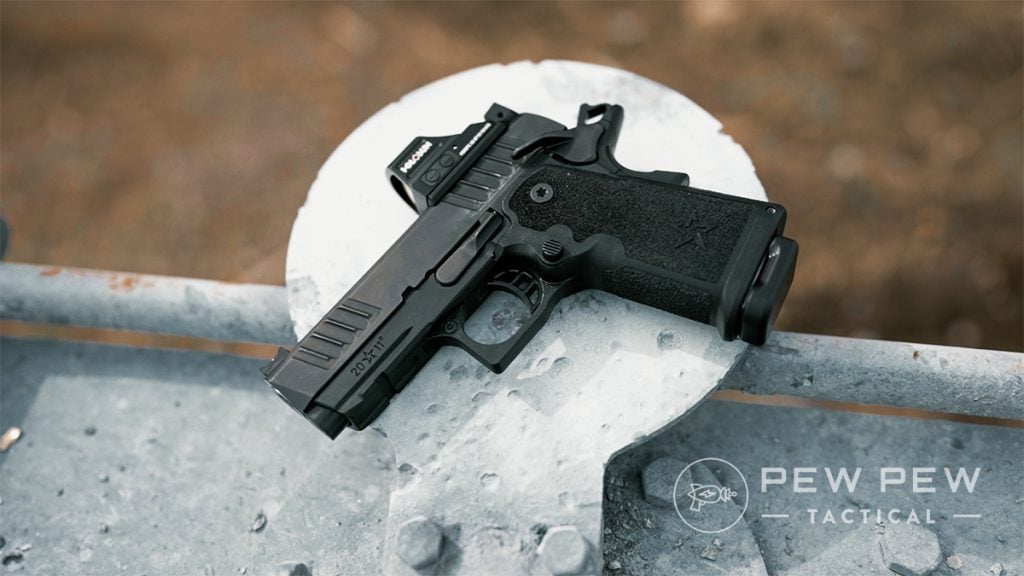 This thing is smoooooth. It features that Staccato action that we all drool over but it's small enough to carry in just about anything.
2499
at Staccato
Prices accurate at time of writing
Prices accurate at time of writing
We did a full write-up and video review, so check it out!
What's your take on Staccato?
Honorable Mentions
Of course, I can't hit all the 1911s out there, but here are a few honorable mentions. I hope one day to own some of these so I can chime in with a more informed opinion, but these have impeccable reputations!
Final Thoughts
The 1911 pistol is a beautiful handgun with a rich history that has expanded over 100 years.
There is no sign of sales declining, and it seems that every year at SHOT Show, there is another 1911 maker entering the scene.
If you are late to the game, hopefully, this will help you choose which one to add to your collection.
Are there any we have to put on the list that we missed? What kind of 1911 do you have? Let us know in the comments below! Also, don't forget to stock up on magazines after checking out our list of the best mags for your 1911.
Read the full article here