Artificial intelligence is taking on an ever-widening role in the health and wellness space, assisting with everything from cancer detection to medical documentation. Soon, AI could make it easier for dentists to give patients a more natural, functional smile.
Researchers from the University of Hong Kong recently developed an AI algorithm that uses 3D machine learning to design personalized dental crowns with a higher degree of accuracy than traditional methods, according to a press release from the university.
The AI analyzes data from the teeth adjacent to the crown to ensure a more natural, precise fit than the crowns created using today's methods, the researchers said.
THESE ARE THE WORST DENTAL MISTAKES YOU CAN MAKE FOR YOUR TEETH
The results of the study were published in the journal Dental Materials.
A dental crown is a tooth-shaped cap that is placed over an existing tooth or implant to create the look of a natural tooth, according to the American Dental Association (ADA) website. 
A crown is typically used to improve the appearance and function of a damaged, misshapen, weakened or discolored tooth, or to replace a missing tooth when used with an artificial implant.
Currently, most dental crowns are made using computer-assisted design (CAD) and computer-aided manufacturing (CAM) software. 
While this process is a marked improvement over the traditional method of creating crowns, it still has limitations, the release stated.
NEW AI 'CANCER CHATBOT' PROVIDES PATIENTS AND FAMILIES WITH 24/7 SUPPORT: 'EMPATHETIC APPROACH'
The software uses a "tooth library" that contains templates of crowns, but they still need to be manually adjusted to fit each individual patient's needs.
"The two existing methods of designing dental crowns result in crowns that are either too large or too thin, and fall short of matching the same lifespan as natural teeth," according to the press release.
In the Hong Kong study, the researchers used 3D machine learning technology to "teach" the AI algorithm over 600 cases of natural and healthy dental results, said Dr. Hao Ding, a co-investigator on the project, in the press release.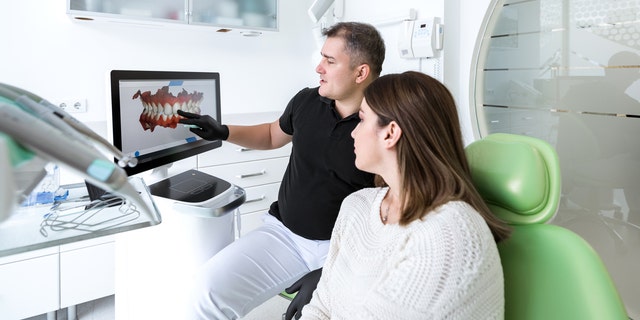 "During the training process, natural teeth's morphological features were learned by the algorithm, so that it can design dental crowns comparable to a natural tooth — both morphologically and functionally," he added.
When the researchers compared the AI-designed crowns to the crowns that were created using CAD/CAM methods, the AI versions were found to be superior, both aesthetically and functionally. 
AI TOOL GIVES DOCTORS PERSONALIZED ALZHEIMER'S TREATMENT PLANS FOR DEMENTIA PATIENTS
"This demonstrates that 3D-DCGAN (3D-Deep Convolutional Generative Adversarial Network) could be utilized to design personalized dental crowns with high accuracy that can not only mimic both the morphology and biomechanics of natural teeth, but also operate without any additional human fine-tuning, thus saving additional costs in the production process," said principal investigator Dr. James Tsoi in the press release.
Clinical trials have already begun for using generative AI to create dental crowns.
"Many AI approaches design a 'lookalike' product, but I believe this is the first project that functionalizes data-driven AI into [a] real dental application," he also said. 
AI TOOL HELPS DOCTORS MAKE SENSE OF CHAOTIC PATIENT DATA AND IDENTIFY DISEASES: 'MORE MEANINGFUL' INTERACTION
Clinical trials have already begun for using generative AI to create dental crowns. The team hopes to leverage the technology to create dentures and bridges in the future.
Fox News Digital reached out to the research team for comment.
Weighing benefits, risks of AI for dental crowns
Tejas Patel, owner of Austin Cosmetic Dentistry in Texas, was not involved in the University of Hong Kong study but reviewed its findings.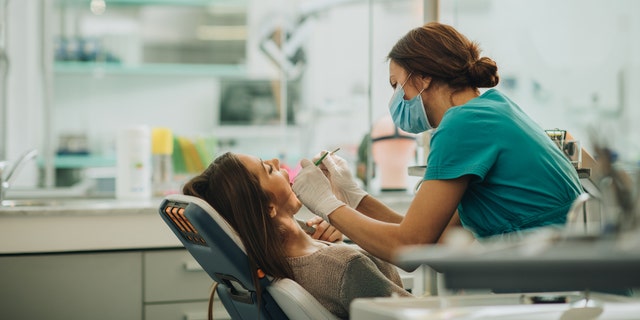 "I have used CAM technology to produce crowns for patients in the past," he told Fox News Digital. "Creating artificial teeth like dentures and crowns requires quite a bit of time for individual patients. This means a higher cost and more room for error."
The idea of using generative AI to create "near-perfect" crowns could save time and money, Patel predicted.
"With the use of generative AI, these processes can more accurately create personalized crowns using previous data and mold them with enough precision to last almost as long as real teeth," he said.
DENTISTS REVEAL WHY YOU SHOULDN'T BRUSH YOUR TEETH IN THE SHOWER
Additionally, using generative AI in dentistry could allow patients to better maintain their oral health just by taking photos of their teeth, Patel said.
"Dentists can easily upload patient images to diagnose any illnesses," he said. 
However, with the need to perform clinical trials, it could be quite some time before this technology is available in the U.S., Patel pointed out.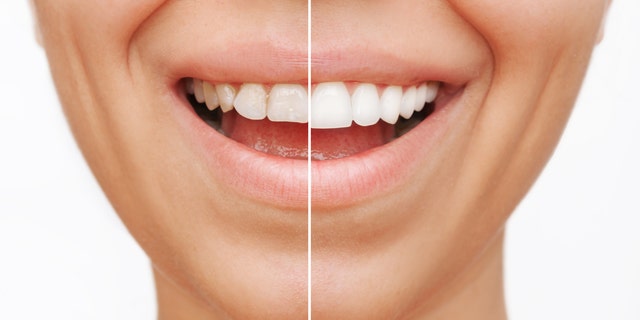 "Other researchers might pick it up sooner, but patients will only see the benefits by next year or a bit later," he predicted.
Privacy risks could also be a concern, Patel warned.
Dental technician jobs might be lost. 
"Generative AI uses a database of accumulated patient data, and this data could be breached if the necessary cybersecurity steps are not taken," he said.
Another potential disadvantage of AI in dentistry is that dental technician jobs might be lost, noted Fatima Khan, dentist and co-founder at Riven Oral Care in Houston, Texas. 
"Dental technicians who have perfected their craft and have a keen eye for aesthetics have higher lab fees," explained Khan, who was not involved in the Hong Kong study. 
"Over time, as more cases are entered into the dental library, they may become superior to those of an individual lab technician due to the amount of data being analyzed and perfected."
CLICK HERE TO SIGN UP FOR OUR HEALTH NEWSLETTER
The other downfall, Khan noted, is that dentists and technicians will become more dependent on equipment, which could potentially malfunction.
Read the full article here